A number cruncher at scouter.com ran the numbers.
BSA Inc's 2018 membership dropped 6% from 2017. They predicted a 2% gain.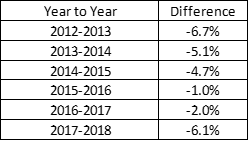 SIX PERCENT. THAT IS DRAMATIC. CEO SHOUILD BE TERMINATED, HIS PAY CLAWED BACK. The board of directors should be charged with malfeasance.
Unsexed boy scouting is a failure. It's not like anyone could see it coming. Who knew?